My Montessori Child
Milkshake Montessori uses My Montessori Child, a Montessori specific online learning journal to keep parents up to date on their child's development as well as news and information about the setting. Parents can also access My Montessori Child at home to enhance and support their child's home learning.
My Montessori Child Login page
My Montessori Child can only be accessed by teachers or parents with a password and is as secure as online banking. Teachers enter child observations, news and updates to keep parents in the loop with what their child does at nursery and how they're developing. Parents are then given a log in and password so they can access this information at any time. My Montessori Child works across all platforms including mobiles and tablets.
Parents can also share their child's 'WOW' achieving moments with Milkshake Montessori via their child's profile on My Montessori Child. We encourage you to share this by simply uploading photos or drawings from home so that we can celebrate your child's achievements together.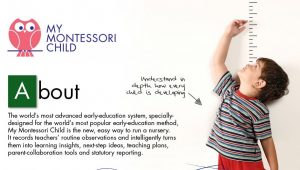 Development
Our teachers use My Montessori Child daily, uploading photographs and observations of your child's development to keep you in the loop at all times on how they are progressing. The system allows staff to record teaching plans, reports and ideas easily and effectively, sharing them with other teachers and parents. My Montessori Child has been written specifically for the Montessori Method so all areas cater to this approach to teaching and learning.
Time well spent
My Montessori Child allows our teachers to spend their time focused on the needs of the children. The system cleverly merges the requirements of the Early Years Foundation Stage (EYFS) with the Montessori and creates an innovative, near real-time reporting system that records all relevant aspects of your child's academic and personal progress. It generates statutory reports at the click of a button and replaces the need for paper-based records and reports. The system can be used to both record developments and report back to parents simultaneously. This cuts down on time spent on paper work and ensures reports are given when they are fresh in the teachers mind.
Safety
The system is as safe as online banking with a separate log in and password for every teacher and parent. Device serial numbers are checked before they are allowed to access the system. Sensitive information can only be accessed by teachers and administrators. Only the parent(s) of the child that has been given a log in can see that child's records, no access to another child's information is given. No information is ever shared with other parties and all data is stored on secure servers.
Registered parents can  login here:  https://www.mymontessorichild.com/parents/ and see updated information about their child, observations, News and events, Diary planners, Policies, Menus and much more.
Please contact us if you have any problems logging in and we will be happy to help.
Montessori Accreditation
What is MEAB?
MEAB is the Montessori Evaluation and Accreditation Board. It is part of the UK Montessori Schools Association which is run by the St Nicholas registered charity. The purpose of MEAB accreditation is to ensure that all MEAB accredited schools using the Montessori name offer high quality education and care to children. It considers how far the school follows the criteria set out in "The Guide to the EYFS in Montessori Settings". This report is prepared following an accreditation visit made on behalf of the Montessori Evaluation and Accreditation Board and should be read alongside the school's Ofsted report which covers statutory compliance in England. Relevant national regulations should be considered for schools operating outside England. There are many benefits of accreditation for Montessori schools and for their teachers, prospective parents and of course the children who attend. Milkshake Montessori has been an accredited MEAB school since 2011 and was one of the first Montessori Schools to take part in the accreditation process.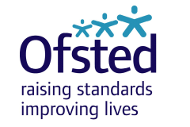 What is Ofsted?
Ofsted is the Office for Standards in Education, Children's Services and Skills. It inspects services providing education and skills for learners of all ages. They also inspect and regulate services that care for children and young people.
View our Ofsted report