The Montessori teaching method provides a rich learning environment empowering a child to develop to his or her full potential. We aim to guide children on their exciting voyage of discovery, in the journey to independent life.
Three core values permeate our Nursery School:
Quality Montessori education.
A partnership between home and School.
A strong sense of community as well as contribution to the larger community.
Built around our core values, our Nursery demonstrates the following strengths:
Quality, Montessori and Early Years trained staff.
Staff and family community with diverse backgrounds.
High level of staff retention.
Toddler, Pre-School and Aftercare curriculum, in calm peaceful relaxing, homely atmosphere.

At Milkshake Montessori Nursery School, we have a number of core values that are guideposts for all of our activities. These core values are:
Personal, social and emotional development.
Communication and language.
Literacy.
Mathematics.
Expressive arts and design.
Understanding of the world.
Physical development.
Spiritual development.
Milkshake Montessori Nursery School believes in quality education and care and is working towards accreditation with Montessori Education United Kingdom (MEUK).
MEUK is a leader in Montessori education, and represents a national perspective on Montessori education. Milkshake Montessori Nursery School uses Montessori Centre International instruction in the classroom and in the development of curriculum to encourage growth and maturity of the school.
Setting high educational standards and providing quality education are core values of Milkshake Montessori Nursery School. A Montessori education is to prepare the child for life. Since our children will eventually enter non-Montessori schools, alongside the Montessori curriculum we follow the foundation Stage Guidelines and prepare children for transition in to reception classes helping them to achieve the Early Learning goals in the six areas of learning.
A strong sense of community permeates the Milkshake environment. This sense of community is demonstrated in the way the classrooms reflect a home environment, in the way the staff communicate with and respect parents and children, and in the way parents work together to help build a better educational environment.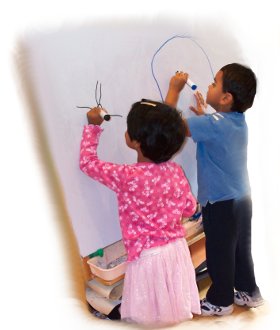 Milkshake Montessori Nursery School provides an inclusive environment which reflects our larger community. We welcome children of all races and religions, and children with special needs. We try to celebrate religious holidays by encouraging children of differing religions to share with other children. It means we exclude no child based on physical or mental disability, but seek to ensure we can meet their needs as much as possible. It means in our hiring we attempt to ensure that our staff is reflective of our surrounding community.
We recognise that children need a safe and supportive environment be allowed to take risks and learn. Milkshake Montessori Nursery School creates a safe environment that encourages children to explore and grow. The Montessori philosophy places a high value on respect for the individual and this philosophy is manifested each day as children are courteous and helpful to each other and to staff. The same is expected of parents and staff, both in their dealings with each other and in how they relate to their children.
Milkshake Montessori Nursery School strives to meet the needs of our parent community: In today's reality most families require two wage earners to support the same lifestyle of 25 years ago. We have responded to the demands of two parents in the work force by providing a hot lunch program, before and after school care, (Early and Late Shakes).