Milkshake Montessori Nursery School is proud to have a well qualified staff team who are key to our success. Our staff all have a variety of qualifications starting at NVQ3 and Early Childhood Degrees.
Currently we have two fully qualified Early Years Professional Status (EYPS) staff.
Please take a moment to meet our senior staff:
Sonya Kanchan Lal - Principal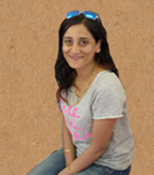 I am Sonya and I started Milkshake Montessori in 2004. I have enjoyed watching the nursery grow over the years and I am very proud of the quality of care and education that my team offer children in the local area. I have completed my Montessori teaching Diploma as well as gaining my Early Years Professional Status. I have two children of my own, both of whom attended Milkshake. I can often be found around the nursery helping out with all sorts of different things. I have recently become a qualified Kundalini yoga teacher - for children, pre and post natal yoga, and for adults. I am now working with sound and developing the holistic area of the school.
Bhavna Mugaroo - Head Teacher - Pre school
Hi, my name is Bhavna and I've always known that I wanted to work with children. I completed my level 3 diploma in Childcare and Education before studying for a Degree in early Childhood Studies with Psychology. I started at Milkshake as a teacher just over 2 years ago and am thrilled to be given the opportunity to be Head teacher. Our warm and caring team welcome you all to Milkshake Montessori School. (In absence on manager/princpal - officer in charge. Deputy Manager Monday/Tuesday/Wednesday)
Kat Falczynska - Deputy Head Teacher - Pre school
I am a Montessori teacher and have been in this profession for 7 years. The qualification has led me to expand my knowledge about child development and human behaviours thus in 2008 I gained my BSc in Psychology. I stongly believe that every child regardless of their background will reach their full potential if brought up in a stimulating environment. (In absence of manager/ principal/ head teacher - officer in charge. Deputy manager Thursday/Friday)
Emira Domi - Room Leader - Toddler community
Hi my name is Emira and I am a mother of two children. I started my childcare course in 2007 at West Thames College and I took a volunteer placement here at Milkshake. After one years work experience I became a permamant member of staff working as a key worker with children aged 2-5 years old. In 2010 I moved to the toddler community and gained some experience and have now been promoted to room Leader. I really enjoy working with babies and children.